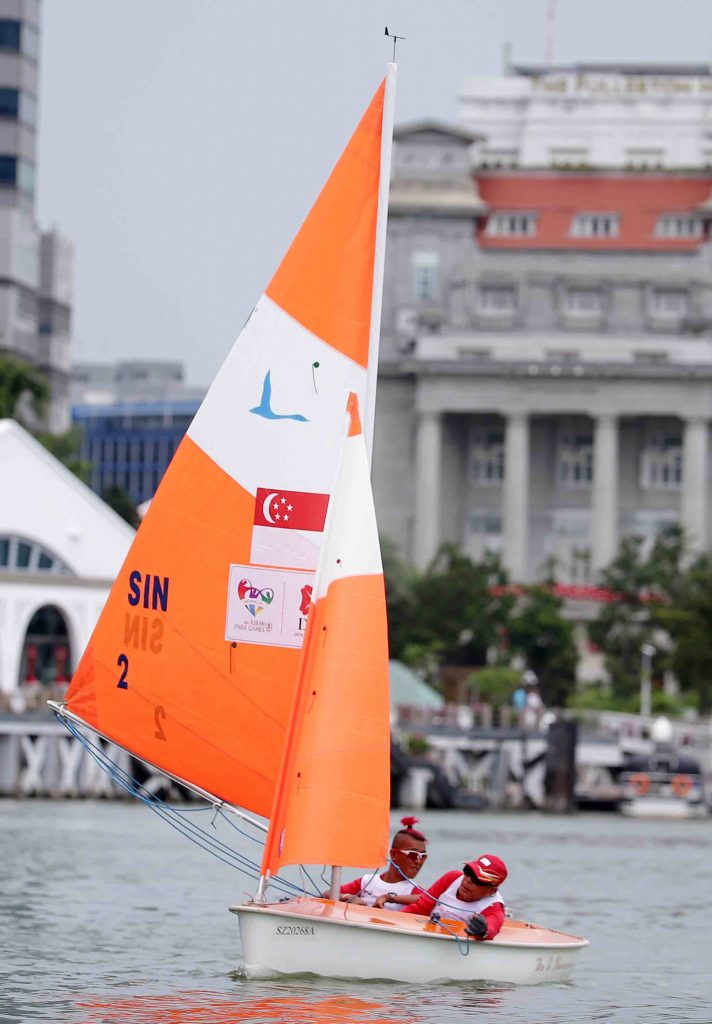 Sailing was introduced as a Paralympic sport in 1996 at the Atlanta Paralympic Games as an exhibition event and has grown to become a medal event in the Summer Paralympics Games since 2000. It is an exceptional sport that is suitable for athletes with physical and visual impairments. The Sailing governing body is the International Foundation for Disabled Sailing (IFDS), which in turn is recognized by the International Sailing Federation. Since 2008, Singapore's Sailing athletes have been competing in the Summer Paralympic Games.
Sailing utilizes the wind to propel a keelboat forward on the sea, and these keelboats use a permanent keel to provide increased stability for the sailor and can be modified according to his/her impairments. All Paralympic Sailing events are mixed gender and there are three events: single, two and three-person keelboat events. Event 1 uses the 2.4m Norlin OD Dual-sail boat and allows for a single participant who can be of any gender. Event 2 for two-person uses the SKUD-18 keelboat and one of the crew members need to be a female. In the final event, the two-sail Sonar boat is used with any combination of genders for the three sailors.
There will be 11 races in each event, and sailors score points in these races based on their finishing position. The faster team or individual will be awarded the lowest score. The worst score out of the 11 races will not be taken into account in the final calculation, and the team or individual with the lowest total score wins.
The sports class for Sailing are from 1 – 7, with a lower number indicating a more severe eligible impairment. The classification is based on 4 elements: stability, hand function, mobility, and vision.
Benefits of Sailing
From improving self-esteem to empowering leadership skills, Sailing is a fun and enjoyable sport that holds numerous benefits for participants. A sailor learns to be independent since he/she would be controlling the sail alone out at sea. Physical benefits include improved muscle tone, increase in body strength and endurance, as well as improved coordination due to the range of movement required. Sailing also aids in the reduction of stress, an improved ability to concentrate and a heightened sense of spatial awareness.