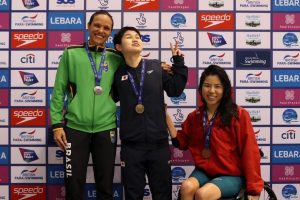 From left to right: Maria Carolina Gomes Santiago, Brazil; Tomomi Ishiura, Japan; Yip Pin Xiu, Singapore (Photo credit: SDSC/Morgan Harlow)
The third leg of the 2023 World Para Swimming World Series saw some of the toughest duels in the pool, as 311 athletes from 36 countries – a number of whom were Paralympians and Paralympic medalists – closed in on the final few competitions before the Manchester 2023 World Championships. Team Singapore para swimmers – Colin Soon, Toh Wei Soong, Yip Pin Xiu and Wong Zhi Wei – put up a strong fight, and managed to close the edition with a bronze from Yip in the Women's Multiclass 50m Backstroke event.
While the rest of the team did not manage to clinch medals, Toh Wei Soong (S7) made finals on 5 out of 8 events, and missed out the podium narrowly in the 50m Fly, behind Brazilians Samuel Da Silva De Oliveira and Gabriel Geraldo dos Santos Araujo, S5 world champion and S2 Paralympic medalist respectively. Both Colin Soon and Wong Zhi Wei are also returning home with a tally of 3 national records.
The Sheffield leg took place at the Ponds Forge International Swimming Centre from 17 to 19 March 2023.
"The atmosphere at this World Para Series was really good and electrifying," said Pin Xiu. "I felt a small kind of pressure, but it was because I wanted to do better than I did at the Melbourne stop, so it wasn't in a bad way. I met my personal targets. My timings were faster than they were in Melbourne, so my coach, team, and myself were really happy with that. It looks like we are on the right track leading up towards the World Championships in Manchester in July. I'm really excited about that, and having good timings were the cherries on top of the cake!"
The Series will next land in Indianapolis, USA, before coming to Singapore at the end of April 2023.
Please download full media release from here