Tiger Balm Boccia Individual Youth Trials 2021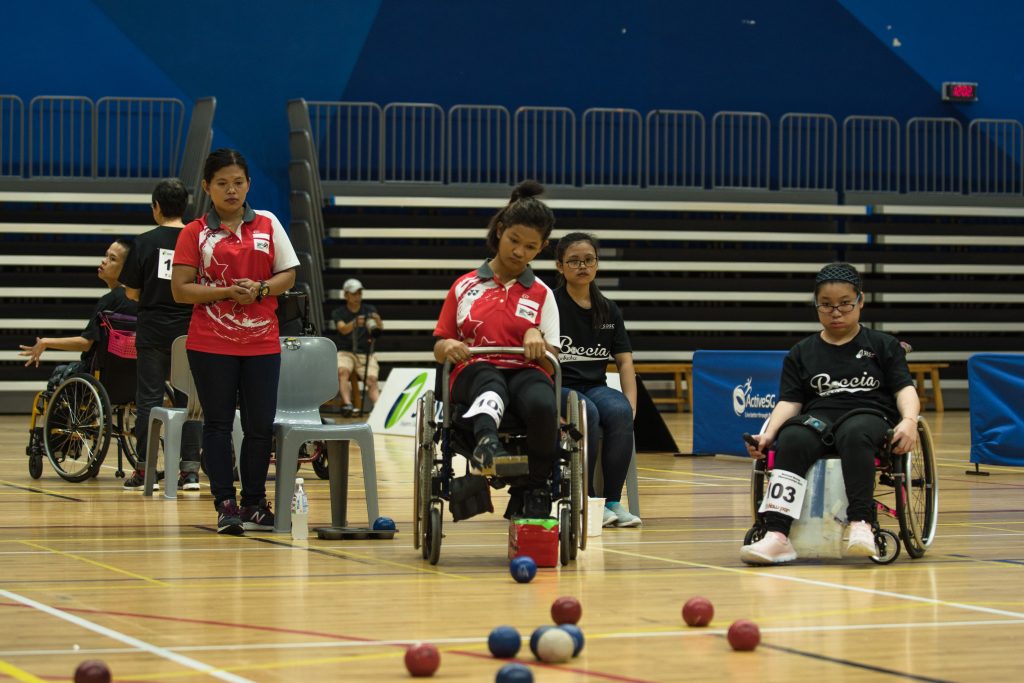 The Singapore Disability Sports Council (SDSC) is pleased to invite all schools, associations and clubs to participate in the Tiger Balm Boccia Individual Youth Trials 2021 (for AYPG nomination).
Note: Currently this entry will be a Registration of Interest for now till further notice to confirmation of the event subjected to COVID-19 Multi-Ministry Taskforce's advisory.
OBJECTIVES:
Creating a fair opportunities for AYPG 2021 eligible youth Boccia Athletes to compete;
Providing platform for selection trial for major international competitions (AYPG 2021)
Details:
Date: Saturday, 19 June and 3 July 2021
Venue: CPAS Hall, 65 Pasir Ris Drive, Singapore 519529
Time:

9am: Admission
9.30am: Equipment check
10.30am: Commencement of event
5pm: Event concludes
*subjected to changes. Detailed event schedule will be available after entry closes.
Categories & Eligibility:
BC 1 (Individuals)
BC 2 (Individuals)
BC 3 (Individuals)
BC 4 (Individuals)
Min 13 years old to Max 21 years old (Youth) (In line with Major Games Asian Youth Para Games Age Categories) Calculation: Year 2021 minus Birth Year
Eligible for nomination Asian Youth Para Games 2021. See AYPG 2021 Nomination Policy HERE
Holds a valid local or internationally recognised classification status Classification Master List (on SDSC Website) HERE
Entry Fees:
SDSC members (sign up to be a member here) – S$5.00 per participant
Non-SDSC members – S$10.00 per participant
Entry fees would entitle the registered participant to accreditation and snacks*. Participants would also be provided with a certificate of participation.
*Financially-disadvantaged participants or organisations may write in to lohnk@sdsc.org.sg with details for your appeal.
An invoice will be issued and payment to be made by 19 June 2021.
Registration Deadline: 31 May 2021 (CLOSED)

Submit all necessary documents via email to Mr Loh at lohnk@sdsc.org.sg by the registration deadline.

Late entries will not be accepted, and changes to entries will not be allowed after the registration deadline.
Local Classification
Please email Head Classifier Ms Ni Ni Swe at nini_swe@cpas.org.sg to arrange for a local classification session, if you are NEW and have not gone through a classification before.
Classification is to be done before registration deadline of 31 May 2021.
View the master classification list (on SDSC website) HERE
Team Manager Briefing
Date: 16 June 2021
Time: 8pm
Platform: Online via Zoom
Accreditation
Only accredited personnel are allowed to access CPAS. Relevant Personnel of the team / group would be provided accreditation (Athletes, Athlete Competition Partners, Sports Assistant, Coaches, and Caregivers). Passes are non-transferable. Those who abuse or transfer passes shall be voided of their accreditation. To align with the COVID-19 crowd control measures, SDSC reserves the right to issue the number of passes to the application.
DOWNLOAD
Please find more documents available for download below:
Becoming an SDSC Member:
If you are keen to become an SDSC member (individual or ordinary/associate), please find more details available here
CONTACT
Please contact Mr Loh at lohnk@sdsc.org.sg for any queries. Thank you.
---
RESULTS
Please find the full results here