SDSC Safe Management Plan for Preparatory Stage of Transition to Endemic COVID-19
Dear member associations, athletes, coaches and officials,
Thank you for your continued patience and understanding as we endeavour to deliver a safe sporting environment for all. We have updated our safe management plan for Preparatory Stage of Transition to Endemic COVID-19 as per government guidance HERE.
---
Updated 25 October 2021
Stabilisation Phase – What You Need to Know
COVID-Positive Case 
Those who have tested positive should inform SDSC officers as soon as possible.

Please inform SDSC officers of the date you tested positive and last tested negative.

SDSC will calculate 10 days back from when you tested positive and trace trainings that happened during that period, and contact the other attendees of the training/s.

Those who had close contact with the covid positive case or were in the same bubble of the covid positive case will be notified immediately to return home and take the Antigen Rapid Test (ART). Please inform SDSC officers of the test results after that, which will be documented.

If the ART result is positive, the individual should

follow Protocols 1 and 2. Return to training only after discharge or end of isolation. If the ART result is negative, the individual should follow Protocol 3. The individual can return to training but needs to take the ART and test negative before he / she steps out of the house. This needs to be done for *7 days.

The individual is

requested to submit the ART results on the day/s of training that take/s place within these *7 days to

SDSC officers.

 Those who had not been in close contact but were in the same session and in the same vicinity

as the covid positive case

would be informed to monitor their health for *14 days, but need not suspend their regular activities. 
*Days would be calculated, beginning the day the person tests positive.
Health protocols issued by the Multi-Ministry Task Force as of 14 October 2021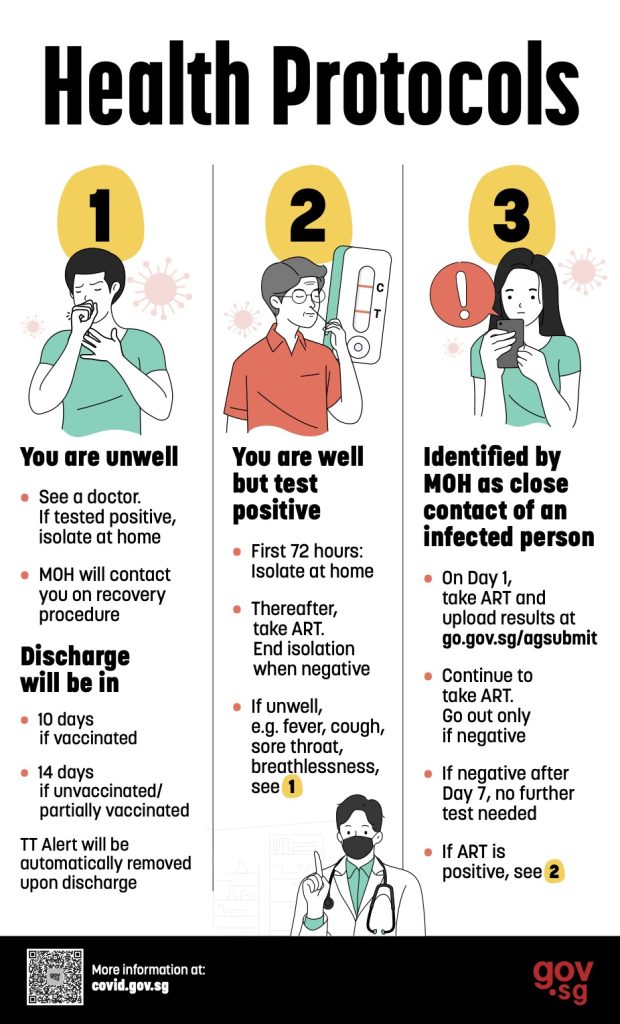 Recovered Cases
Persons who had been infected with COVID-19 and subsequently recovered can continue to shed non-infectious viral fragments for several months after the initial infection. Their PCR/ART tests may give a positive result, but they are not infectious according to 

MOH

, and this is usually stated in their discharge memo.  Recovered C+ individuals are also exempted from Pre-Event Testing (PET) for 270 days from the first positive PCR test result. Hence, recovered C+ individuals are deemed to be "cleared" and may resume sport activities. They should however continue to remain on any required testing regimes, albeit with their results managed separately, so that the period of "shedding of non-infectious viral fragments" can be tracked and monitored.