The INAS Global Games is the biggest sporting event for athletes with intellectual impairment. For the first time this year, persons with Autism and Down syndrome will be able to compete in this prestigious event. Held every 4 years, it gathers over 1,000 athletes from around the globe. The 2019 edition of the Global Games will be held at Brisbane, Australia from 12 to 19 October 2019 and will feature 11 Sports – Athletics, Basketball, Cricket, Cycling, Futsal, Hockey, Rowing, Swimming, Table Tennis, Taekwondo and Tennis.
---
INAS Global Games
Arrival: 11 October 2019 | Departure: 20 October 2019
Brisbane, Australia
Sports – Athletics & Swimming
Athletes must meet the qualifying standards in order to be eligible to participate. Only results from SDSC approved competition using electronic timing system, during the period 1 Jan 2018 till 15 May 2019 will be recognized.
Kindly refer to the following links for the qualifying standards:
– Athletics
http://www.inasglobalgames.org/wp-content/uploads/2018/11/GG2019-Athletics-Qualifying-Standards1.pdf
– Swimming
http://www.inasglobalgames.org/wp-content/uploads/2018/11/GG2019-Swimming-Entry-Standards-Draft-Schedule.pdf
Expression of Interest |Deadline: 31 May 2019
Interested participants to email to the respective SDSC officer in the following format.

---
Eligibility | Deadline for submission: 5 June 2019
– Singapore Citizen
– Minimum 14 years old (Calculation: 2019 minus year of birth)
– All athletes entering the event must appear on the INAS Master List no later than the final entry deadline – 12 August 2019.   Athletes who do not appear on the INAS Master List are not eligible for this event.
INAS Eligibility Application
All applications are to be submitted to SDSC
Application Form
INAS Athlete Eligibility Application Form
https://inas.org/wp-content/uploads/2019/03/Reg-form-v8-Jan19.docx.pdf
Evidence
Evidence of intellectual impairment
– Psychological report must be in accordance with INAS guidelines
https://inas.org/wp-content/uploads/2019/03/Reg_form_Guidance_Notes_Jan19.docx.pdf
TSAL
Complete the online Training History & Sport Activity Limitations Inventory (TSAL)
https://spreadsheets0.google.com/a/inas.org/viewform?hl=en&hl=en&formkey=dDVQbmlpa2lyMlhSQUpVZVUtNHhiQ3c6MQ#gid=0
Additional Attachments
Passport Size Photo
Copy of Passport
Doping Controls
The INAS Global Games is subject to random doping tests in accordance with the INAS Anti-Doping Policy, details of which can be found at: https://inas.org/about-us/anti-doping-policy.
Any athlete taking medication needs to complete the INAS Therapeutic Usage Exemption TUE from and submit to the INAS Head of Anti-doping well in advance of their arrival to Brisbane for the 2019 INAS Global Games.
Estimated Cost per pax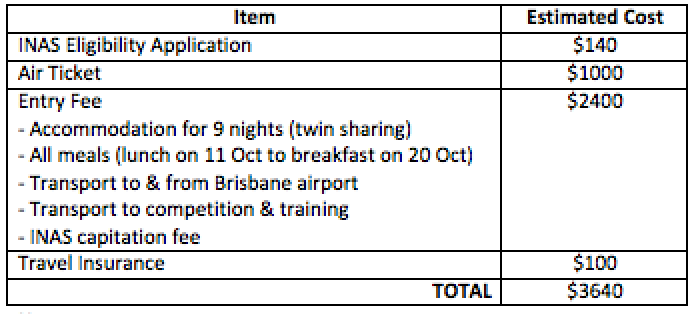 – *Costs to be borne by participant who are not carded by SportSG in FY19. Note:
– Costs for caregiver is to be borne by participant.
– Additional $300 for accommodation in single room
– SDSC will be responsible for all admin matters, eg: flight bookings, submission of entries etc.
– The final cost will be made known to participants after all payments have been made for the above items.
Contact
Athletics:
Mr. Loh Ngiap Kiang
Pathway & Participation Executive
DID: 6342 3564 | Email: lohnk@sdsc.org.sg
Swimming:
Mr. Kang Tze Wei
Assistant Manager (High Performance)
DID: 6342 3564 | Email: tze.wei@sdsc.org.sg
*SDSC will actively try to find ways to assist those who need financial assistance who qualify for the games.