Who is Runninghour?
Having only 10 members when they formed in 2009 by a group of fitness enthusiasts, Runninghour was set up for members to act as Buddy Runners for individuals with a mild intellectual disability. Now in 2018, they are registered as a Co-Operative in Singapore and boast more than 400 members! They have also extended their hand to include peoples of other special needs such as the visually, hearing and physically challenged.
The main objective of Runninghour is to promote community inclusiveness; to provide support to persons with special needs in physical recreational activities such as running. This also provides them with opportunities to interact and build bonds with each other, as well as expanding their social networks.
Runninghour 2018
This year, Runninghour will be organising the 4th edition of their Runninghour Event.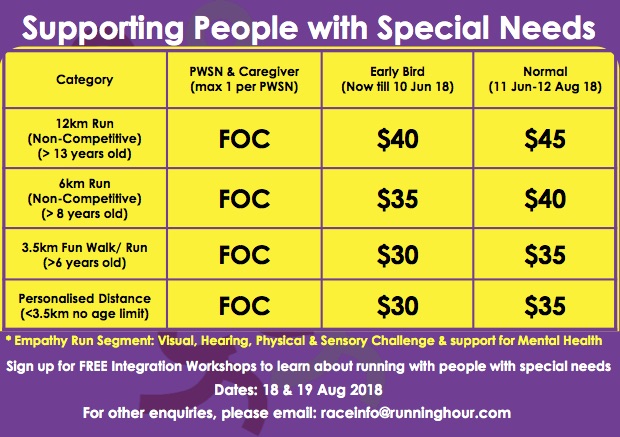 For more information, please head on down to http://www.runninghour.com
For further enquires, please contact raceinfo@runninghour.com