Singapore National Para Games 2017
Spearheaded by the Singapore Disability Sports Council (SDSC), the SNPG is a multi-sport league that runs from mid-July to mid-September. It aims to provide a platform for persons with disability to experience community-level competition, make new friends and build camaraderie. Aspiring athletes can also take the opportunity to hone their skills and be talent-spotted for national training. SDSC is especially grateful to Haw Par Corporation Limited for continuing their generous support to make SNPG 2017 possible.
This year, as part of the movement to benefit a wider community, the SNPG Organising Committee (SNPGOC) has closely collaborated with the GetActive! Singapore Organising Committee (GA!SOC) to ensure a fruitful experience for participants spanning 21 sports.
Please read the following documents before registration:
1. SNPG Tournament Information
2. SNPG Competition Schedule (as of 1 Aug 2017)
To register, please download the appropriate registration form.  Fill in the details and submit the form to SNPGOC
3. SNPG Registration (Individual Events) (as of 1 Aug 2017)
4. SNPG Registration (Team Event)
Additional forms:
5. SNPG Indemnity and Parent Consent Form
6. SNPG Participant Replacement Form
---
GENERAL RULES & REGULATIONS
1. Eligibility

Open to all Singapore Citizens, Permanent Residents and Foreigners with valid passes as follows: student pass; long term pass; dependent's pass; work permit; S pass; or employment pass AND with a permanent disability.
Participants must be 10 years of age and older by 31st December 2017 (Calculation: 2017 minus Year Born).
Participants who opt to participate in a higher division are subject to the approval of the Organising Committee.
For sport – individual events, participants can compete in ONE DIVISION only.
For sport – team events, participants can compete EITHER in their RESPECTIVE DIVISION OR A HIGHER DIVISION.
The Organising Committee reserves the right to combine and/or cancel events, in accordance with final entries.
Participants who are 18 years old or younger, must obtain parental/legal guardian consent, complete and submit Indemnity and Parent Consent Form.
2. Registration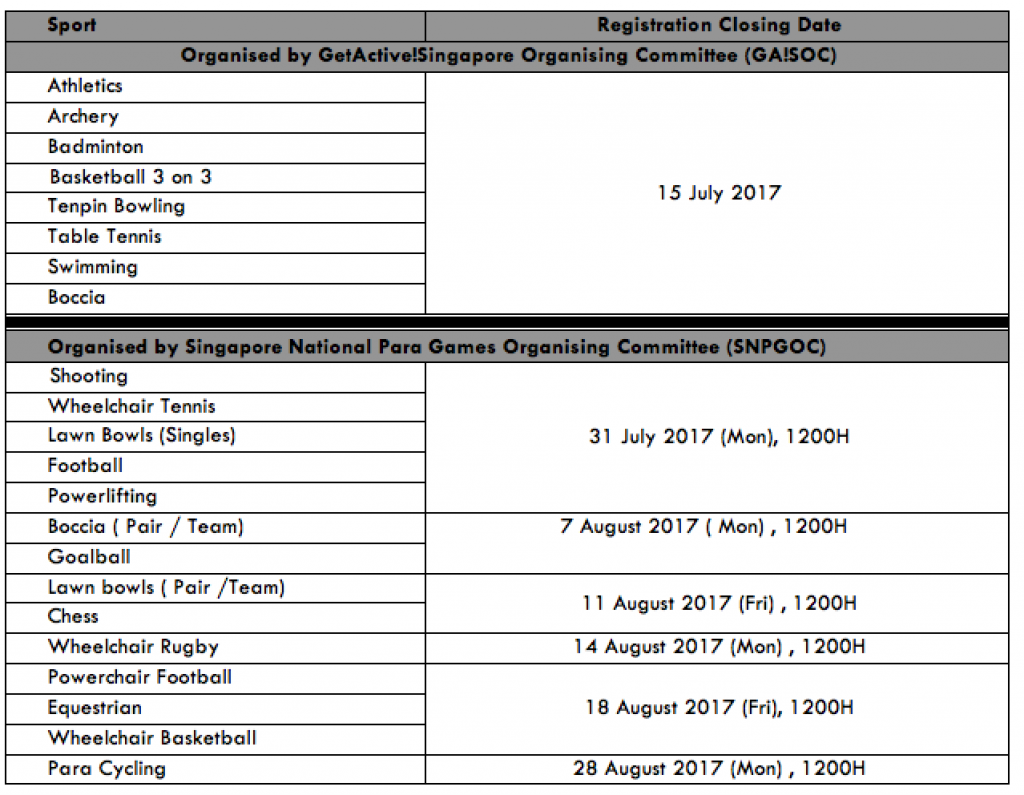 Registration forms can be found at:
For team events, the person in charge/team manager/captain shall register on behalf of the team. He/she shall be the main point of contact for the Organising Committee.
Additional information on registrations for SNPGOC-organised events :

For replacement of participants, the 'Participant Replacement Form 'must be completed and submitted to the SNPGOC 3 working days in advance before the event.
Acceptance of late entries/replacement form is subject to the sole discretion of the Organising Committee.
Completed registration forms are to be submitted via email/fax to attention of:
SNPG Organising Committee 2017 (SNPGOC)
Tel: (+65) 6342 3501
Fax: (+65) 6342 0961
Email: snpg@sdsc.org.sg
3. Fees 
For sports organised by GA!SOC: Refer to the GA!SOC website
For sports organised by SNPGOC: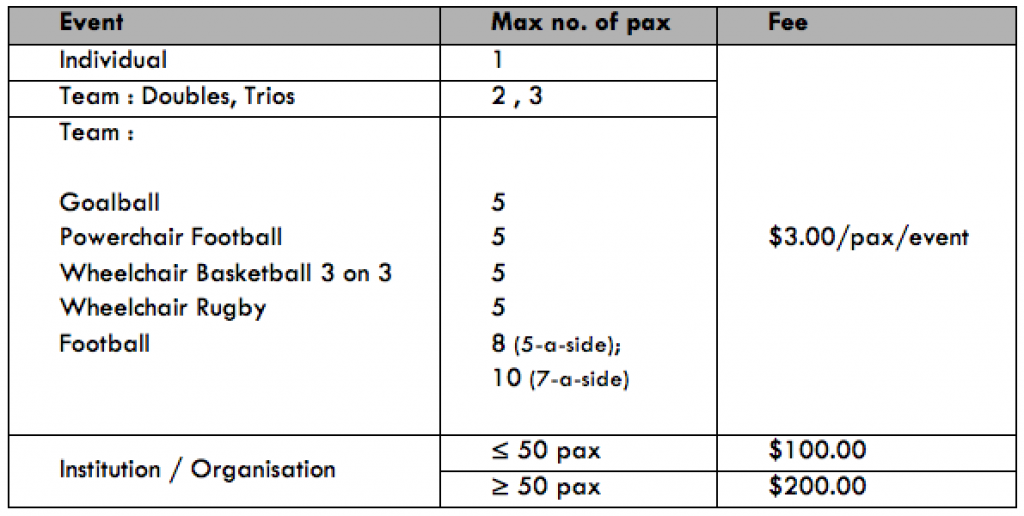 4. Payment Mode
For sports organised by GA!SOC: GetActive!Singapore portal or at ActiveSG Sports Centres
For sports organised by SNPGOC:

Invoice/receipt for registration fees will be issued after final confirmation of entries and payment. Payment must be made before commencement of event.
5. General Enquiries
For more information, please contact –
Tel: (+65) 6342 3501
Fax: (+65) 6342 0961
Email: snpg@sdsc.org.sg
Attention to:
Sport Competitions
Ms. Daphne Mun Wei
Ms. Chew Zi Qun
Communications, Media, Volunteer Management
Ms. Sarah See | Ms. Stefanie Pitchian