Equestrian was introduced to the Paralympics in 1984 and has been a regular programme since the summer games of 1996. For Equestrian, the Paralympics competition tests a highly skilled form of horse riding called dressage. The crucial element is the display of horse and rider in perfect harmony before a panel of five judges. Although there is a second discipline of the sport known as Para Equestrian Driving (where the athlete rides in a vehicle drawn by the horse), it is not included in the Paralympics. Equestrian is open to athletes with any form of physical or visual impairment, and the events that the athletes participate in are dependent on their disability types and functional ability.
There are three tests for Para Equestrian: Team test with three to four riders per team, an individual test that assesses the horsemanship ability to demonstrate a pre-determined set of movements, and the freestyle test where riders can select their choice of movements and music. Team medals are awarded based on the sum of scores obtained by members in the individual tests and overall team tests, with the best 3 scores counting. Medals are also awarded for the individual and freestyle tests.
For Para Equestrian, riders are able to use special equipment in practices and competitions. Devices such as rein bars, specially adapted saddles and dressage crops can be used for Para Equestrian. These products help to ensure balance and to allow the rider to remain in control.
The global governing body for Para Equestrian is Fédération Equestre Internationale, known as FEI for short. The relevant body for Equestrian and Para Equestrian in Singapore is the Equestrian Federation of Singapore.
In Paralympics Equestrian, all class events are mixed gender. Sport classes for Equestrian are as follows: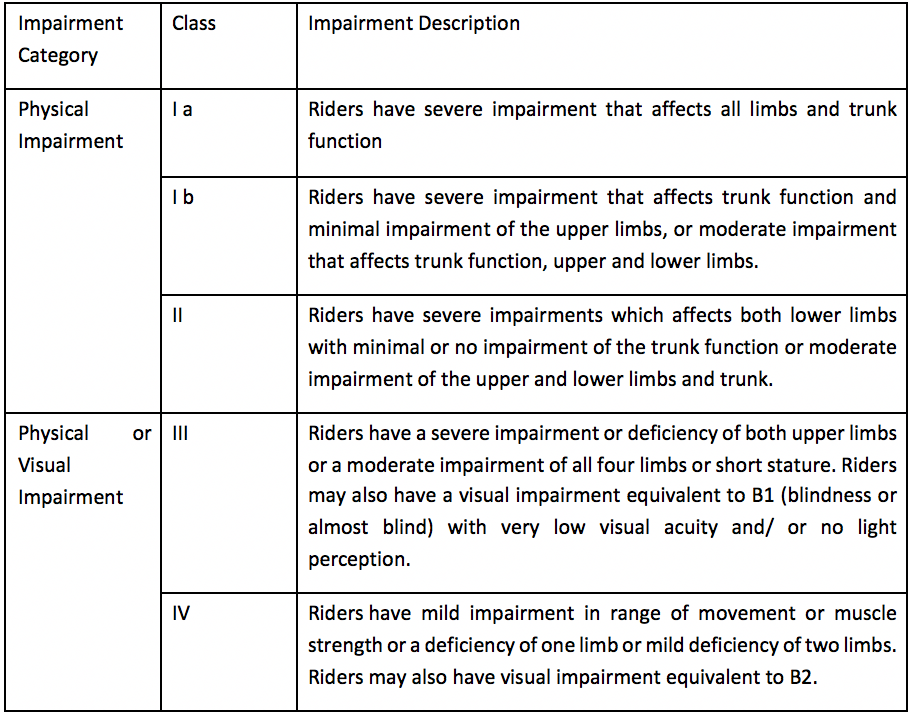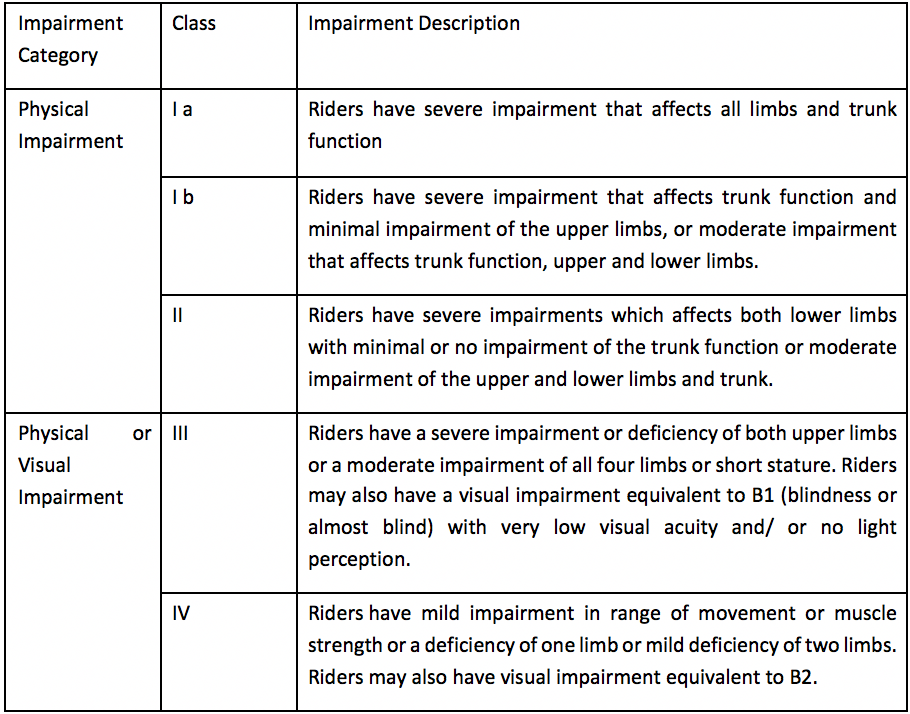 The difficulty of the tests and events that riders participate in depends on their classification and level of impairment.