Coaching Opportunities
The Singapore Disability Sports Council (SDSC) is the national sports body for the promotion and development of disability sports.  We run a wide range of disability sports programme and are looking for dynamic individuals to join our team as a coach.
AVAILABLE POSITIONS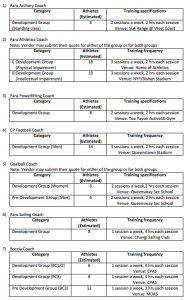 Period of contract: 1 Oct 2020 till 30 September 2022 with an option to extend till 30 September 2023.

RESPONSIBILITIES
Planning, Administration & Implementation
produce personalised yearly training programmes for different athletes
implement and monitor training plans; review plans and provide reasons for modifications where necessary
maintain records of athletes' performance
coordinate and maintain records of athletes' attendance at training
recommend appropriate competitions for athletes, especially athletes in the elite squad
Coaching and Performance Management
Be able to:
coach athletes in the specific sports; ensure athletes development and acquisition of skillfulness required for high performance
evaluate performance and providing suitable feedback, balancing criticism with positivity and motivation
assess strengths and weaknesses in athletes' performance and identifying areas for skill correction, improvement and/or further development
adapt coaching and instruction skills to meet the needs and interests of group or individual athletes
communicate instructions and commands using clear, simple language
ensure that athletes train and perform to a high standard, maintaining health, wellness and safety of athletes' at all times
share knowledge and understanding of fitness, injury, sports psychology, nutrition and sports science with athletes
monitor, measure and report athletes performance regularly
liaise with other partners in performance management, such as SDSC sports officers, physiotherapists, doctors and nutritionists
If you are a highly motivated, engaging and enthusiastic coach with an understanding of the needs of athletes with special needs and if you want to work and excel in a challenging environment, we invite you to join us.
QUALIFICATIONS
At least 21 years of age
Preferably with the relevant para sport coaching certificate from respective International Federation and/or National Federation
Must be registered with Sport Singapore's National Registry of Coaches (NROC)
Preferably with IPC Introduction to Para Sports Coaching Certificate
Preferably at least 600 hours in coaching para sport
A deep understanding of talent development, athletes' development pathways and Long Term Athlete Development (LTAD)
EVALUATION CRITERIA
We will use the following criteria for evaluating your ITQ submission:
Price
Coaching qualifications
Coaching track record
SUBMISSION OF ITQ
Vendors to submit your response by using the attached COACHING SERVICES RESPONSE template.
Deadline for submission: 30 June 2020, 5.00pm
We regret that only shortlisted candidates will be notified.
CONTACT
For further clarifications or queries, please contact:
Mr. Justinian Chua
Pathway & Participation Manager
Email: justinian.chua@sdsc.org.sg